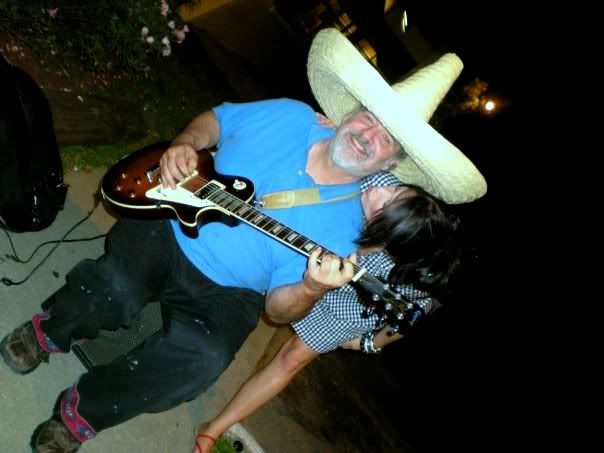 Just hangin' out on the Tennessee Strip. This man above in the sombrero tends to hang out and play the guitar for tips on the weekends. He's been featured before on the blog,
here
.
ALSO:
f21 dress/shirt thing (borrowed), primark sandals, hot topic spikes
i was tagged by the gorgeoussss and totally badass
emma
of
all in your innerspace
:
[1] What are your current obsessions? anything studded, my calvin klein grey platform pumps, playsuits, anything printed in 90s floral, hats, and red lips
[2] What is your weirdest obsession? downloading and belting out musical soundtracks (in public and private)
[3] What are you wearing today? black express cigarette pants, light blue and white button down from f21, white studded wrap bracelet, black rimmed chanel glasses
[4] What's for dinner today? some friends & i are making spaghetti with meatballs
[5] Why is today special? humpday! after today, i have one more day of work and then its off to new orleans for 3 days!
[6] What would you like to learn to do? sew, paint my nails efficiently
[7] What's the last thing you bought? margaritas and tacos in celebration of cinco de mayo
[8] What are you listening to right now? the teenagers
[9] What is your favorite type of weather? 80&sunny and 60&storming are tied pretty evenly in my book
[10] What is your most challenging goal right now? getting to work on time, everyday, to save up enough to move to south florida
[11] What do you think about the person who tagged you? her swag is siiiiiiiiick and im sad i just graduated so i cant shave my head
[12] If you could have a house totally paid for, fully furnished anywhere in the world, where would you like it to be? london
[13] What would you like to have in your hands right now? a powerade (tequilla is dehydrating)
[14] What would you like to get rid of? all this stuff that needs to be pulled from microfilm at work
[15] If you could go anywhere in the world for the next hour, where would you go? london
[16] Which language do you want to learn? french and mandarin. its my goal by the end of the year to have at least successfully started to learn both.
[17] What do you look for in a friend? fun, listens, no dramz, down for whatev
[18] Who do you want to meet in person? bob colacello
[19] What's your favorite type of music? i honestly like everything. i love being introduced to new bands, so if you have someone in mind you think i should def be lsitening to, drop it in a comment!
[20] What's the favorite piece of clothing in your own closet? the pants im wearing. honestly, they were the best $20 i ever spent.
[21] What is your dream job? something im motivated to wake up every morning and put a full 110% into, pref in fash or writing
[22] Any favorite models? tallulah morton, lara stone
[23] What would you mostly likely spend $100 on? clothes and booze
[24] What would you like an endless supply of? shoes i love
[25] Girl crush? lara stone
[26] Do you admire anyone's style? of course! theres too many to name
[27] Describe your personal style. whatever i feel like wearing at the moment. it's usually inappropriate for wherever/whatever i am doing. lately it's all about frilly dresses, red lips, and lots of black.
i was also tagged by emma to list 7 things i love:
[1] friends
[2] blackberry
[3] the size of my closet
[4]
twitter
[5] when people guess how many bangles i have on & they're RIGHT
[6]
failblog
,
txtsfromlastnight
,
fmylife
, and the like
[7] tulips
& i tag anyone who feels like doing this. if you, leave a comment and let me know!